This is Divine Angel. We call her Angel. She's an AKC and ACA Registered West Highland White Terrier (Westie). And though she may look like an Angel...she's actually quite a little terror. *smiles*
We brought Angel home two days after her 8 week birthday. She was born June 3, 2002. Here's a couple of pics of her on the day we brought her home.

She loves it in the back yard. She tries really hard to climb the trees after the squirrels.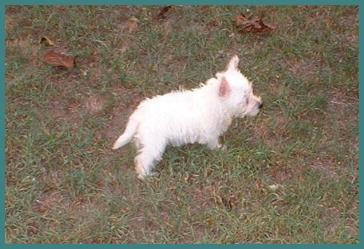 She's always looking for leaves, sticks, or hickory nuts to carry around while she's outside.
She's really a blast to be around. She's so full of energy. She gets into whatever she can and chews on everything in her path. Including our shoe strings.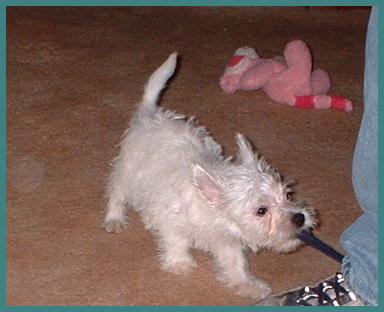 She loves to chase her tennis ball, but once she gets it....there's no getting it away from her, she's just too fast.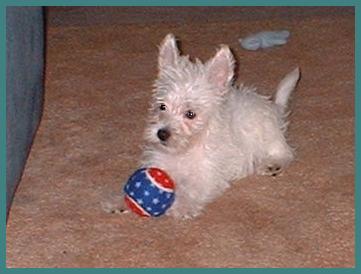 She's very intelligent and did great on her housebreaking. She is a bit sassy. If you tell her "NO" she will stop and bark at you, and then continues with what she was doing. She definately has attitude.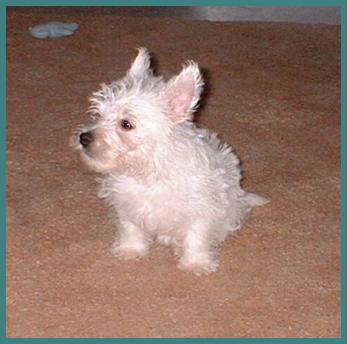 We absolutely adore her. We researched many different breeds before deciding on which to get. We wouldn't change our decision for anything.

Angel at 1 year, 4 months, and a few days old.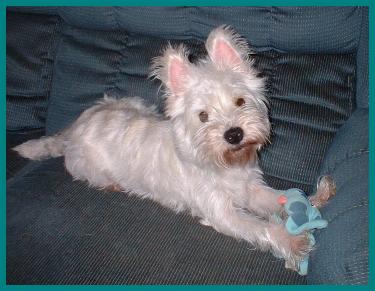 Angel at two years old. She's such a ham when it comes to having her picture taken.

Angel, Christmas 2004. 2 years and 6 months old.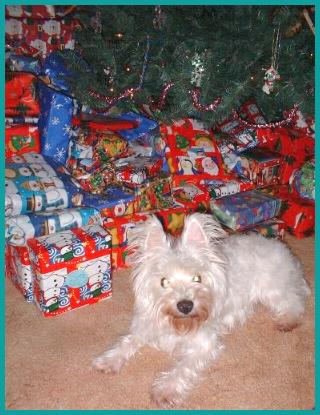 HAPPY 3RD BIRTHDAY!!!
I do love my dog....and I do love my VW's....so what's better than having a pic with my dog next to VW's!!

Happy 4th Birthday Angel!!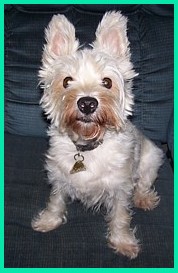 Christmas 2007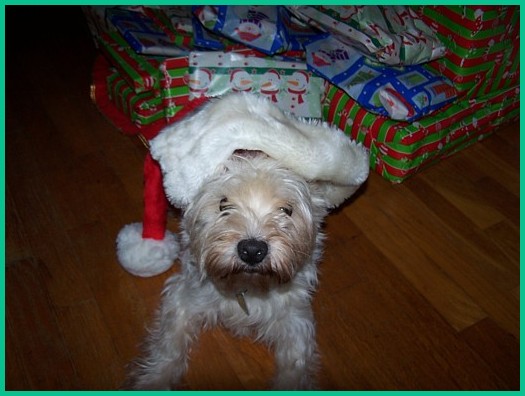 Follow the paw prints for more puppy pics of Angel and a couple of Westie poems.
These paws will lead you to Angel's newest pics.
General appearance facts about the Westie.
Angel's Web Rings.
To Sign our Guestbook and for more Doggie Stuff head over to our Canine Kids Home Page.