Win a Canine Kids' Award

If your site meets these requirements you are eligible to win a Canine Kid's award.
1. Must be pet related!!
2. Must be clean! No Naughty Stuff or Links!!
3. No reference of abuse to animals!!!!
4. No broken links!!
5. Signing my guestbook (optional) is a plus!!
6. You must link the award back to Canine Kid's site.

This is a sample of the awards.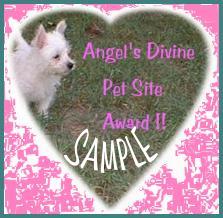 If your site meets all the requirements, then send me an e-mail(below) with your site url. Please state Which award You are applying for. After I view your site, if it meets the above, I will send you the award.

View the awards Canine Kid's have won!!